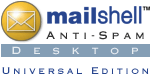 Install
Install Mailshell Anti-Spam Universal
Install Program
Run the downloaded Mailshell Anti-Spam program on your hard disk to start the setup program. If you are running Windows 2000, NT, or XP, make sure that you are logged in with Administrator rights to install programs on your computer. Follow the setup instructions on the screen to continue installation.



Register and Start Service
Activate Mailshell Anti-Spam by entering your registration key in the pop-up window when prompted. Complete installation by clicking the "Start POP Proxy" button.



Configure Email Client
For Mailshell Anti-Spam to run properly with your email client, you must configure your email client's settings. Learn how to use Mailshell Anti-Spam here.